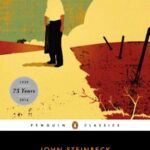 The Grapes of Wrath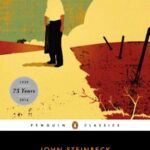 The Grapes of Wrath
$18.00
$18.00
Title

Range

Discount

Trade Discount
5 +

25%

$

13.50
Description
Additional information
Description
by  John Steinbeck       Introduction by Robert DeMott     Notes by Robert DeMott
Grades 9-12 + AP/IB
The Pulitzer Prize-winning epic of the Great Depression, a book that galvanized—and sometimes outraged—millions of readers. Nominated as one of America's best-loved novels by PBS's The Great American ReadA Penguin Classic First published in 1939, Steinbeck's Pulitzer Prize-winning epic of the Great Depression chronicles the Dust Bowl migration of the 1930s and tells the story of one Oklahoma farm family, the Joads—driven from their homestead and forced to travel west to the promised land of California. Out of their trials and their repeated collisions against the hard realities of an America divided into Haves and Have-Nots evolves a drama that is intensely human yet majestic in its scale and moral vision, elemental yet plainspoken, tragic but ultimately stirring in its human dignity. A portrait of the conflict between the powerful and the powerless, of one man's fierce reaction to injustice, and of one woman's stoical strength, the novel captures the horrors of the Great Depression and probes into the very nature of equality and justice in America. At once a naturalistic epic, captivity narrative, road novel, and transcendental gospel, Steinbeck's powerful landmark novel is perhaps the most American of American Classics.
This Penguin Classics edition contains an introduction and notes by Steinbeck scholar Robert Demott.
For more than seventy years, Penguin has been the leading publisher of classic literature in the English-speaking world. With more than 1,800 titles, Penguin Classics represents a global bookshelf of the best works throughout history and across genres and disciplines. Readers trust the series to provide authoritative texts enhanced by introductions and notes by distinguished scholars and contemporary authors, as well as up-to-date translations by award-winning translators.
Winner of the Pulitzer Prize for Fiction By the Winner of the Nobel Prize in Literature"Steinbeck is a poet. . . . Everything is real, everything perfect."
—Upton Sinclair, Common Sense"I think, and with earnest and honest consideration . . . that The Grapes of Wrath is the greatest American novel I have ever read."
—Dorothy Parker"It seems to me as great a book as has yet come out of America."
—Alexander Woollcott
"I didn't understand at the time — no one could have — that [The Grapes of Wrath] was not just a historical document but also a document about our current world with its depiction of drought and its effects. . . . California, where the Joads went, is no longer the reliably verdant and green paradise they found; it's now coming out of a five-year drought of its own. . . . The other point that Steinbeck makes well, is that when we have huge, natural changes like these, the people who pay the largest price are the people most vulnerable and closest to the bottom. . . . None of them did anything much to cause the problem, and yet they are its early victims. . . . Steinbeck was trying to do something more than just simply tell a story. He's a remarkable writer, and this is his masterpiece."— Bill McKibben, environmentalist

John Steinbeck (1902–1968), born in Salinas, California, grew up in a fertile agricultural valley, about twenty-five miles from the Pacific Coast. Both the valley and the coast would serve as settings for some of his best fiction. In 1919 he went to Stanford University, where he intermittently enrolled in literature and writing courses until he left in 1925 without taking a degree. During the next five years he supported himself as a laborer and journalist in New York City, all the time working on his first novel, Cup of Gold (1929).
After marriage and a move to Pacific Grove, he published two California books, The Pastures of Heaven (1932) and To a God Unknown (1933), and worked on short stories later collected in The Long Valley (1938). Popular success and financial security came only with Tortilla Flat (1935), stories about Monterey's paisanos. A ceaseless experimenter throughout his career, Steinbeck changed courses regularly. Three powerful novels of the late 1930s focused on the California laboring class: In Dubious Battle (1936), Of Mice and Men (1937), and the book considered by many his finest, The Grapes of Wrath (1939). The Grapes of Wrath won both the National Book Award and the Pulitzer Prize in 1939.
Steinbeck departs from this depiction of women in Of Mice and Men. Confined to her husband's home, and never given a name in the novel, Curley's wife functions almost as a force of nature, precipitating the events that wreck the men's "best laid schemes," as poet Robert Burns wrote. Whereas the women in The Grapes of Wrath and The Pearl suggest hope even in the bleakest of circumstances, Curley's wife leaves only shattered dreams in her wake.
Of Mice and Men tells a tightly compressed story set during the Great Depression. George and Lennie, drifters and friends in a landscape of loners, scrape by with odd jobs while dreaming of the time they'll "live on the fatta the lan'" (p. 101). Lennie has a massive body and limited intelligence, and his unpredictable behavior casts George as his protector. The novel is peopled with outcasts—a black man, a cripple, a lonely woman. The terror of the consequences of infirmity and old age in an unresponsive world is underscored when a laborer's old dog is shot. Is Lennie's similar death at the hands of his protector, with his dream before his eyes, preferable to what the future holds for him? Nearly all the characters share in some version of the dream, recited almost ritualistically, and in their narrow world it is pitifully small: "All kin's a vegetables in the garden, and if we want a little whisky we can sell a few eggs or something, or some milk. We'd jus' live there. We'd belong there" (p. 54).
The ending appears to be at odds with Steinbeck's explicit exhortations for social change in the other two novels. In Of Mice and Men, he seems to appeal to a higher form of wisdom in the character of Slim, who does not aspire to anything beyond the sphere he occupies. His "understanding beyond thought" (p. 31) echoes Rose of Sharon's mysterious smile at the end ofThe Grapes of Wrath.
From the questions his characters pose about what it means to be fully human, Steinbeck may be understood to charge literature with serving not only as a call to action, but as an expression and acceptance of paradox in our world. "There is something untranslatable about a book," he wrote. "It is itself—one of the very few authentic magics our species has created."
Additional information
| | |
| --- | --- |
| Weight | 1 oz |
| Dimensions | 1 × 5 × 8 cm |