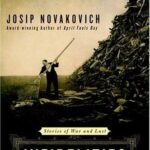 Infidelities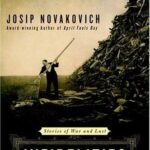 $15.99
Title

Range

Discount

Trade Discount
5 +

25%

$

11.99
Description
Additional information
Description
Tragicomedy of the highest order, this stellar collection is Croatian writer Novakovich's best ever.
Hailed as one of the best short story writers of the 1990s, Josip Novakovich was praised by the New York Times for writing fiction that has "the crackle of authenticity, like the bite of breaking glass." In his new collection, he explores a war–torn Balkan world in which a schoolchild's innocence evaporates in a puff of cannon smoke, lust replaces love, and the joy of survival overrides all other pleasures.
As Serb, Croat, and Bosnian Muslim armies clash in the cities and countryside of the former Yugoslavia, it's hard to tell the front lines from the home front. The characters in Infidelities––soldiers and civilians alike––are caught in the ridiculous, often cruelly whimsical contradictions of war and the paranoia and folly of those who conduct it. In "Ribs," a Croatian woman whose husband has already been taken by the war will go to any length to keep her son out of the army, including sleeping with the draft officer, a tryst that leads to an unexpected, and disturbing, spiritual vision. A Buddhist soldier in the Bosnian Muslim military is
ly accused of being an informer to the enemy Serbs after his detachment ambushes itself in "Hail." A draft dodger is in the hospital for a transplant, in "A Purple Heart," when a high–ranking Croatian general steals the heart for himself (and dies) while the dodger suddenly discovers a new thirst for life. In "Spleen," a Bosnian émigré in America learns that even in the throes of passion she cannot find release from the haunting memories of her homeland.
These stories cover a broad sweep of time, reaching back to the first shots of World War I in Sarajevo and forward to the plight of Balkan immigrants in contemporary America. Throughout, acts of compassion, gallows humour, even desire arise from a landscape devastated by tragedy.
"Eye-opening, fibrillating fiction. . . . Brutally honest. . . . We are much the better for Novakovich's fertile, cross-border imagination" "Novakovich's mix of America and Croatia makes for unique insights into the troubled Balkan region. One comes away with a sense of why that region imploded, and why its people acted as insanely as they did." "Novakovich is one of the great American writers of recent emergence." "A wry and compassionate observer, Novakovich . . . continues to write about his homeland with flinty precision and a peppery brew of sublimated emotions. Fluent in the many shades of meaning conveyed in the subtlest of gestures and the briefest of conversations, and gifted with a stinging sense of humor, Novakovich fashions take-charge tales of displacement that embody the fracturing of war and the misdirection of lust, the dream of sanctuary and the chasm of loneliness." "Novakovich is a natural storyteller; in INFIDELITIES, he never lets the human heart out of his sight." "Infidelities is a joy to read. In Josip Novakovich comedy lies beyond hope and is at once a wound of the spirit and its balm-not to mention personal identity's last ditch strategy for survival. I found the book exhilarating." "Novakovich has perfected the grand style of the Continental anecdote, with its…retrospection [that] falls prey to irony."
Additional information
| | |
| --- | --- |
| Weight | 16 oz |
| Dimensions | 1 × 5 × 8 cm |