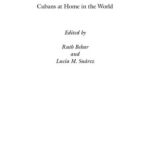 The Portable Island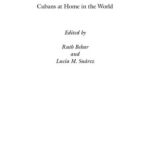 The Portable Island
$115.00
$115.00
Title

Range

Discount

Trade Discount
5 +

25%

$

86.25
Description
Additional information
Description
Cubans today are at home in diasporas that stretch from Miami to Mexico City to Moscow. Back on the island, watching as fellow Cubans leave, the impact of departure upon departure can be wrenching. How do Cubans confront their condition as an uprooted people? The Portable Island: Cubans at Home in the World offers a stunning chorus of responses, gathering some of the most daring Cuban writers, artists, and thinkers to address the haunting effect of globalization on their own lives.
Ruth Behar is Professor of Anthropology at the University of Michigan. Her most recent book is
An Island Called Home: Returning to Jewish Cuba
.
Lucía M. Suárez
is Associate Professor of Spanish at Amherst College.  She is the author of
The Tears of Hispaniola: Haitian and Dominican Diaspora Memory.
""This is not the first collection of essays on the Cuban Diaspora, but it may be the most innovative, because it encompasses the widest scope, recognizing that the dispersal of Cubans after the Castro revolution has become a global phenomenon."–E. Hu-DeHart,
Choice
"
The Portable Island
explores the sensibilities of exile with grace to spare, giving voice to the ambivalence with which all of us –whether exiled or not – yearn for what we've lost. The island evoked here is a place both real and mythical: as much a paradise as a hell, as much a point of origin as a destination. Beyond that, these essays and poems also bear eloquent witness to the utter failure of Cuba's so-called Revolution, which wantonly expels whomever it can't devour." –Carlos Eire, author of
Waiting for Snow in Havana
"Ruth Behar and Lucia Suarez serve up a sumptuous feast of love for a lost island.
The Portable Island
demonstrates the indelible impact Cuba has had not just upon its children but on all who come to know it."—Alfredo Estrada, author of
Havana: Autobiography of a City
"Ruth Behar and Lucía M. Suárez, in gathering these inspiring, tenacious meditations on the circuitousness of exile, show that the terms 'home' and 'diaspora' are now synonymous. They also prove that Cuba is not only an island. It has become a metaphor for universalism!"–Ilan Stavans, author of
The Hispanic Condition
and
Spanglish
INTRODUCTION IN TWO VOICES * After the Bridges–Ruth Behar * Our Memories, Ourselves–Lucía M. Suárez * PART I: EN LA MALETA: WITH A SUITCASE IN OUR HANDS * Wherever That May Be–Richard Blanco * I Will Die in Paris in the Sudden Rain…–Verónica Pérez Konina * Exile and Bougainvillea–José Kozer * The Land Is in Me–Damaris Calderón * Notes on the Movement of Trains in Germany–Carlos Aguilera Chang * Easter Sunday and Lake Waban: Two Poems–Nancy Morejón * Avon Calling–Nely Galán * PART II: IDLAS: AFTER EVERYONE HAS LEFT * They Took Me to the Movies While My Mother Packed: Her Bag and other poems–Rolando Estévez * Other Roads to Santiago and other poems–Laura Ruiz * "That's My Theme: The Human Adventure." An Interview with Ena Lucía Portela–Iraida López * From Havana to Mexico City: Generation, Diaspora, and Borderland–Rafael Rojas * Josefina the Traveler: Ceremony for a Desperate Actress (monologue)–Abilio Estévez * Letter to Enrique Saínz (poem)–Jorge Luis Arcos * PART III: REGRESOS: WHEN WE RETURN * In the Middle of Nowhere–Nara Araújo * The Woman Who Wanted Bridges–Ruth Behar * Piedra Jaimanitas–Rosa Lowinger * Going Home Via Africa and Cayo Hueso–Alan West-Durán * Writing from Babylon–Pedro Pérez Sarduy * The Convergence of Time: Being Cuban in the Present Tense–María de los Angeles Torres * PART IV: MÁS ALLÁ DE CUBA: NOW AND THEN WE TRY TO FORGET ABOUT GEOGRAPHY * Citizen of a Certain World–Karla Suárez * My Repeating Island–Gustavo Pérez Firmat * A Cuban Dorothy–Eliana Rivero * Becoming Cuba-Rican–Jorge Duany * Crossing Borders: Notes on Forgetting–Mabel Cuesta * Cuba in my Heart: A Geo-Emotional Condition–Lucía M. Suárez * PART V: ESPERANDO: TO WAIT IS A CUBAN CONDITION * Waiting–Ruth Behar * Gerundios de la Espera–Rolando Estévez
 
 
Additional information
| | |
| --- | --- |
| Weight | 1 oz |
| Dimensions | 1 × 6 × 9 cm |