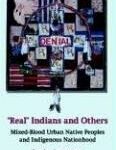 "Real" Indians and Others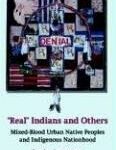 "Real" Indians and Others
$29.95
$29.95
Title

Range

Discount

Trade Discount
5 +

25%

$

22.46
Description
Additional information
Description
Mixed-blood urban Native peoples in Canada are profoundly affected by federal legislation that divides Aboriginal peoples into different legal categories. In this pathfinding book, Bonita Lawrence reveals the ways in which mixed-blood urban Natives understand their identities and struggle to survive in a world that, more often than not, fails to recognize them.In
"Real" Indians and Others
Lawrence draws on the first-person accounts of thirty Toronto residents of Native heritage, as well as archival materials, sociological research, and her own urban Native heritage and experiences. She sheds light on the Canadian government's efforts to define Native identity through the years by means of the Indian Act and shows how residential schooling, the loss of official Indian status, and adoption have affected Native identity. Lawrence looks at how Natives with "Indian status" react and respond to "nonstatus" Natives and how federally recognized Native peoples attempt to impose an identity on urban Natives.Drawing on her interviews with urban Natives, she describes the devastating loss of community that has resulted from identity legislation and how urban Native peoples have wrestled with their past and current identities. Lawrence also addresses the future and explores the forms of nation building that can reconcile the differences in experiences and distinct agendas of urban and reserve-based Native communities.
Bonita Lawrence is an assistant professor of women's studies and Native studies at Queen's University in Kingston, Ontario. She recently coedited (with Kim Anderson)
Strong Women Stories: Native Vision and Community Survival
.
"What is an Indian? What does it mean to be Indian? These are the questions Lawrence seeks to answer in this path-breaking study."—Todd Leahy,
Journal of the West
"This valuable. . . . Book makes relentlessly clear that Canadians of mixed heritage have fared little better than mixed-race Americans in creating political or personal identities."—Beth LaDow,
Western Historical Quarterly
"A participant-scholar who engaged in this dynamic study through her own personal involvement as an urban Indian, Lawrence, who currently teaches at Queens University, combined a rigorous interview process that included thirty mixed-blood Natives living in Toronto with solid secondary research to create a book that proves far more ambitious than the title might indicate."—Margaret Connell Szasz, American Review of Canadian Studies
Additional information
| | |
| --- | --- |
| Weight | 1 oz |
| Dimensions | 1 × 1 × 1 cm |