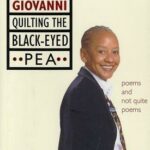 Quilting the Black-Eyed Pea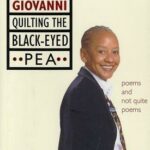 Quilting the Black-Eyed Pea
$16.99
$16.99
Title

Range

Discount

Trade Discount
5 +

25%

$

12.74
Description
Additional information
Description
A resonant collection of all new poems from one of America's preeminent poets. Ever commanding, luminous, and controversial, Nikki Giovanni speaks truth to power on issues of social justice, racism, gender, violence, and justice.Quilting the Black-Eyed Pea is a tour de force from Nikki Giovanni, one of the most powerful voices in American culture and African American literature today. From Black Feeling, Black Talk and Black Judgment in the 1960s to Bicycles in 2010, Giovanni's poetry has touched millions of readers worldwide, focusing a sharp eye on politics, racial inequality, violence, gender, social justice and African-American life. In Quilting the Black-Eyed Pea, Giovanni turns her gaze toward the state of the world around her, and offers a daring, resonant look inside her own self as well.
"One of her best collections to date." —Essence
When Nikki Giovanni's poems first emerged during the Civil Rights and Black Arts Movements of the 1960s, she immediately took a place among the most celebrated and influential poets of the era. Now, Giovanni continues to stand as one of the most commanding, luminous voices to grace America's political and poetic landscape.
In a career spanning over thirty years, Giovanni has created a body of work that's become vital and essential to our American consciousness. This collection of new poems is a masterpiece that explores the ecstatic union between self and community. Quilting the Black-Eyed Pea is an extraordinarily intimate collection. Each poem bears our revered cultural icon's trademark of the unfalteringly political and the intensely personal: The elegant "What We Miss" exalts the might and grace of women, while "Swinging on a Rainbow" rejoices about the spaces in which we read; Giovanni commemorates Africa and her family legacy in the majestic "Symphony of the Sphinx" and contemplates our America in the heartbreaking "Desperate Acts" and "9:11:01 He Blew It." And in the dreamy "Making James Baldwin" and dazzling "Quilting the Black-Eyed Pea," Giovanni gives us reason to comfort, to share, to love, to change and to be human.
Quilting the Black-Eyed Pea is Nikki Giovanni's meditation on humanity and soul. It's her revelatory gaze at the world in which we live — and her confession on the world she dreams we will one day call home. Nikki Giovanni is a national treasure as she once again confirms her place as one of America's most powerful truth tellers and beloved daughters. "One of her best collections to date." "An embracing, uplifting, and sustaining voice."
Additional information
| | |
| --- | --- |
| Weight | 10 oz |
| Dimensions | 1 × 6 × 9 cm |