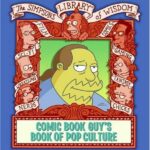 Comic Book Guy's Book of Pop Culture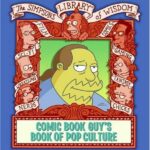 Comic Book Guy's Book of Pop Culture
$9.95
$9.95
Title

Range

Discount

Trade Discount
5 +

25%

$

7.46
Description
Additional information
Description
Comic Book Guy's Book of Pop Culture is an all–new book from the ongoing series: The Simpsons Library of Wisdom.
Allow the portly proprietor of 'The Android's Dungeon and Baseball Card Shop' to guide you through the ins and outs, the fast food takeouts, online dates, things he hates, Wonder Woman dreams, internet schemes, chick flicks, Kung Fu kicks, gaming freaks, fan boy geeks, comic books, condescending looks, Tolkien's Middle Earth, his own middle girth, and every other aspect of pop culture from his own expertly acerbic point of view.
Comic Book Guy's Book of Pop Culture – it's the worst, we mean . the best book ever!
In The Simpsons Library of Wisdom, Matt Groening, the creator of 'The Simpsons', offers an ongoing series of portable and quotable books that will eliminate the need for all religions and philosophies, exalt man's role in the universe and make the world a better place … sort of. No other television show in history has commented so freely and so humorously on modern times, and there seems to be no end in sight for the sharp satire and pointed parody that 'The Simpsons' serves up every night of the week all around the world.
Additional information
| | |
| --- | --- |
| Weight | 8 oz |
| Dimensions | 6 × 6 cm |