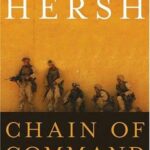 Chain of Command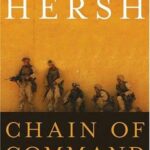 $25.95
Title

Range

Discount

Trade Discount
5 +

25%

$

19.46
Description
Additional information
Description
Since September 11, 2001, Seymour M. Hersh has riveted readers — and outraged the Bush Administration — with his stories in The New Yorker, including his breakthrough pieces on the Abu Ghraib prison scandal. Now, in Chain of Command, he brings together this reporting, along with new revelations, to answer the critical question of the last three years: how did America get from the clear morning when hijackers crashed airplanes into the World Trade Center and the Pentagon to a divisive and dirty war in Iraq?
Hersh established himself at the forefront of investigative journalism thirty-five years ago when he broke the news of the massacre at My Lai, Vietnam, for which he won a Pulitzer Prize. Ever since, he's challenged America's power elite by publishing the stories that others can't, or won't, tell. In exposés on subjects ranging from Saudi corruption to nuclear black marketeers and — months ahead of other journalists — the White House's false claims about weapons of mass destruction, Hersh has cemented his reputation as the indispensable reporter of our time.
In Chain of Command, Hersh takes an unflinching look behind the public story of President Bush's "war on terror" and into the lies and obsessions that led America into Iraq. He reveals the connections between early missteps in the hunt for Al Qaeda and disasters on the ground in Iraq. The book includes a new account of Hersh's pursuit of the Abu Ghraib story and of where, he believes, responsibility for the scandal ultimately lies. Hersh draws on sources at the highest levels of the American government and intelligence community, in foreign capitals, and on the battlefield for an unparalleled view of a crucial chapter in America's recent history. With an introduction by The New Yorker's editor, David Remnick, Chain of Command is a devastating portrait of an Administration blinded by ideology and of a President whose decisions have made the world a more dangerous place for America.
Additional information
| | |
| --- | --- |
| Weight | 24 oz |
| Dimensions | 1 × 6 × 9 cm |