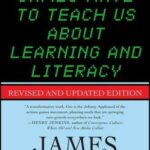 What Video Games Have to Teach Us About Learning and Literacy. Second Edition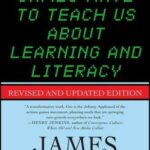 What Video Games Have to Teach Us About Learning and Literacy. Second Edition
$21.99
$21.99
Title

Range

Discount

Trade Discount
5 +

25%

$

16.49
Description
Additional information
Description
James Paul Gee begins his classic book with "I want to talk about video games–yes, even violent video games–and say some positive things about them." With this simple but explosive statement, one of America's most well-respected educators looks seriously at the good that can come from playing video games. In this revised edition, new games like World of WarCraft and Half Life 2 are evaluated and theories of cognitive development are expanded. Gee looks at major cognitive activities including how individuals develop a sense of identity, how we grasp meaning, how we evaluate and follow a command, pick a role model, and perceive the world.
The definitive look at all that can be learned from video games
James Paul Gee has been featured in a variety of publications from Redbook, Child, Teacher, and USA Today to Education Week, The Chicago Tribune, and more. He is Professor of Education at the University of Wisconsin-Madison. Described by the Chronicle of Higher Education as "a serious scholar who is taking a lead in an emerging field" he has become a major expert in game studies today.
Introduction: 36 Ways to Learn a Video Game * Semiotic Domains: Is Playing Video Games a "Waste of Time"? * Learning and Identity: What Does It Mean to Be a Half-Elf? * Situated Meaning and Learning: What Should You Do after You Have Destroyed the Global Conspiracy? * Telling and Doing: Why Doesn't Lara Croft Obey Professor Von Croy? * Cultural Models: Do You Want to Be the Blue Sonic or the Dark Sonic? * The Social Mind: How Do You Get Your Corpse Back after You've Died? * Conclusion: Duped or Not? * Appendix: The 36 Learning Principles
"Gee astutely points out that for video game makers, unlike schools, failing to engage children is not an option." —Terrence Hackett, The Chicago Tribune"These games succeed because, according to Gee, they gradually present information that is actually needed to perform deeds." —Norman A. Lockman, USA Today"James Paul Gee's What Video Games Have to Teach Us About Learning and Literacy has been a transformative work. Gee might be described as the Johnny Appleseed of the serious games movement, planting seeds that are springing new growth everywhere we look. More than anyone else, he has forced educators, parents, policy makers, journalists, and foundations to question their assumptions and transform their practices. Gee combines the best contemporary scholarship in the learning scientists with a gamer's understanding of what is engaging about this emerging medium." —Henry Jenkins, author of Convergence Culture: Where Old and New Media Collide
Additional information
| | |
| --- | --- |
| Weight | 1 oz |
| Dimensions | 1 × 160 × 9 cm |