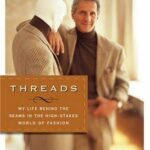 Threads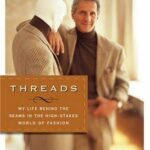 $25.95
Title

Range

Discount

Trade Discount
5 +

25%

$

19.46
Description
Additional information
Description
Designers are great white sharks, and we roam the waters ourselves. We often pretend to like and admire each other, but sometimes we don't even bother to fake it. The fashion industry is as hardworking, incestuous, and political as any other, and it's virtually impossible, given the size of designers' egos, to sincerely wish someone else well, because behind every false tribute is 'It should have been me.'
So writes Joseph Abboud, who fell in love with style at five. There in the dark of the movie house, he wasn't just some Lebanese kid with a babysitter. He was the hero, in tweeds and pocket squares. That's where he learned that clothes represented a better life—a life he wanted, and would grab, for himself. From his blue-collar childhood in Boston's South End to his spread-collar success as one of America's top designers, he has forged a remarkable path through the unglamorous business of making people look glamorous.
He transformed American menswear by replacing the traditional stiff-shouldered silhouette with a grown-up European sensuality. He was the first designer to win the coveted CFDA award as Best Menswear Designer two years in a row and the first designer to throw out the opening pitch at Fenway Park. He's been jilted by Naomi Campbell (who didn't show up on the runway for his first women's fashion show) and questioned by the FBI (who did show up in his office right after September 11 because he fit the profile). He's soared and sunk more than a few times—and lived to tell the tales.
Threads is his off-the-record take on fashion, from the inside out. With breezy irreverence, he looks at guys and taste, divas and deviousness, fabric and texture, and all those ties. He takes us to the luxe bastion of Louis Boston, where he came of age and learned the trade, and to the seductive domain of Polo Ralph Lauren, where he became associate director of menswear design. He reveals the mystique of department-store politics, what's what at the sample sale, and who copies whom. He explains the process of making great clothes, from conception and sketch to manufacturing and marketing.
Whether he's traveling by daredevil horse, plunging plane, Paris Métro, or cross-country limo, Abboud is an illuminating guide to a complex world.
Additional information
| | |
| --- | --- |
| Weight | 18 oz |
| Dimensions | 1 × 6 × 9 cm |