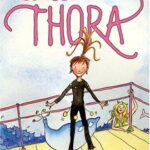 Thora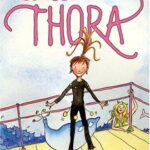 $15.89
Title

Range

Discount

Trade Discount
5 +

25%

$

11.92
Description
Additional information
Description
Thora's no ordinary girl. She's got scales on her legs, purple feet, and a blowhole that squirts water from the top of her head. Thora's a half-mermaid. And as mermaid law commands, Thora must spend ten years at sea and ten years on land. In a houseboat called the Loki, Thora sails the seas with her mermaid mother, Halla, and guard ian, Mr. Walters. But following her tenth birthday, Thora heads to the seaside town of Grimli, where her father grew up.
In Grimli, fat-cat tycoon Frooty de Mare will stop at nothing to expand his Tooty Frooty Enterprises. With the help of new friends and her pet peacock, Thora has her work cut out thwarting Frooty's evil plans — not to mention doing a bit of exploring into her own Grimli roots.
Gillian Johnson's fanciful tale captures the unflappable spirit of an exceptional young heroine who, despite being half-mermaid, somehow always manages to land on her feet.
>hrhr<"The scribbly, black-and-white illustrations display an edgy, kinetic line reminiscent of Quentin Blake's work."
Additional information
| | |
| --- | --- |
| Weight | 15 oz |
| Dimensions | 1 × 6 × 8 cm |