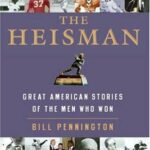 The Heisman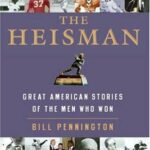 $17.99
Title

Range

Discount

Trade Discount
5 +

25%

$

13.49
Description
Additional information
Description
Close your eyes and picture the
Heisman Trophy. The form is easy
to conjure, a graceful, fluid pose
that is football past and football present
in one dignified figure …
The story of the Heisman Trophy
is an american epic.
— from the Preface
No sport in America can match the pageantry, raw emotion, and thrilling tradition of college football. It is a world in which a twenty-year-old kid can become a national sensation overnight, in which coaches are deified and rivalries burn white-hot.
And in this world, there is no individual award so revered as the Heisman Trophy. Every yearsince 1935, one player has run, thrown, or kicked his way into the pantheon of American sport. From Nile "The Cornbelt Comet" Kinnick in the '30s, West Point's legendary backfield of Doc Blanchard and Glenn Davis in the '40s, and Paul Hornung in the '50s to Ernie Davis, the Jackie Robinson of college football, miracle worker Doug Flutie, and modern-day Sunday warrior Eddie George, the history of the Heisman gives us insight into the heart of America through the lives of the heroes that entranced an entire nation for one brilliant season. Extraordinary in ways that transcend athletic ability, Heisman winners have gone on to become war heroes, Fortune 500 CEOs, and high-level politicians.
As John Heisman himself once said, the Heisman Trophy "is meant to exemplify the grandeur of a thousand men." Here within these pages are intimate portraits of some of the winners who also exemplify the grit and glory of America's beloved game and of the coaching giants such as Bear Bryant, Woody Hayes, and Red Blaik, who inspired the winners to achieve.Told in the evocative words of Pulitzer Prize–nominated journalist Bill Pennington, their heart-stopping experiences on the field and off will have Americans enthralled until the final page is turned.
Additional information
| | |
| --- | --- |
| Weight | 16 oz |
| Dimensions | 1 × 6 × 9 cm |