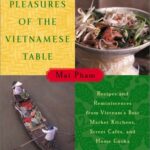 Pleasures of the Vietnamese Table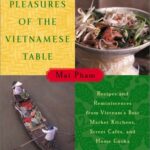 Pleasures of the Vietnamese Table
$27.50
$27.50
Title

Range

Discount

Trade Discount
5 +

25%

$

20.63
Description
Additional information
Description
A land of vibrant cultures and vivid contrasts, Vietnam is also home to some of the most delicious and intriguing food in the world. While its cooking traditions have been influenced by those of China, France, and even India, Vietnam has created a cuisine with a spirit and a flavor all its own.
Chef and restaurateur Mai Pham brings to life this diverse and exciting cooking in Pleasures of the Vietnamese Table. Born and raised in Saigon before emigrating to the United States, Mai has often returned to her native land to learn the secrets of authentic Vietnamese cooking, from family, friends, home cooks, street vendors, and master chefs. Traveling from region to region, she has gathered the simple, classic recipes that define Vietnamese food today: Green Mango Salad with Grilled Beef, Stir-Fried Chicken with Lemongrass and Chilies, Caramelized Garlic Shrimp, and especially pho, the country's beloved beef-and-noodle soup. With more than 100 recipes in all, Pleasures of the Vietnamese Table offers home cooks the chance to create and savor the traditional flavors of Vietnam in their own kitchen.
Filled with enchanting stories and stirring black-and-white photos of life in Vietnam, Pleasures of the Vietnamese Table provides a captivating taste of an enduring culture and its irresistible cuisine.
Additional information
| | |
| --- | --- |
| Weight | 22 oz |
| Dimensions | 1 × 7 × 9 cm |