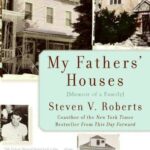 My Fathers' Houses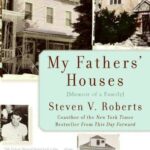 $14.99
Title

Range

Discount

Trade Discount
5 +

25%

$

11.24
Description
Additional information
Description
From Steven V. Roberts comes My Fathers' Houses, a memoir of growing up in Bayonne, New Jersey, an immigrant community in the shadow of the Statue if Liberty, and the story of how his father and his grandfather's dreams–and their own passion for writing and ideas–influenced Steven's future, and inspired him to seek his fortune in New York City, the media capital of the world.
This is a story of a town and a time and a boy who grew up there, a boy who became a New York Times correspondent, TV and radio personality, and best–selling author. The town was Bayonne, New Jersey, a European village so close to New York that Steve could see the Statue of Liberty from his bedroom window. The time was the forties and fifties, when children of immigrants were striving to become American and find a place in a booming post–war world. The core of Steve's world was one block, where he lived in a house his grandfather, Harry Schanbam, had built with his own hands.
But the story starts back in Russia, where the family business of writing and ideas began. Steve's other grandfather, Abraham Rogowsky, stole money to become a Zionist pioneer in Palestine before moving to America. The tale continues through the Depression, when Steve's parents lived one block apart in Bayonne, wrote letters to each other and married in secret.
During the war years, Steve's father wrote children's books and based one of his best sellers on outings he took with his twin sons to the local train station. As his byline, he used his boys' middle names–Jeffrey Victor–so Steve got his first writing credit before he was two. The story concludes with the boy leaving Bayonne, going on to Harvard, meeting the Catholic girl who became his wife, and starting work at the New York Times–across the river, and worlds away, from where he began. Now a grandfather of five, Steve Roberts looks in the mirror and sees his own father and grandfather looking back at him–a family chain that started in 19th century Russia and thrives today in 21st century America.
>hr<"An emotional story about fathers and sons that encapsulates the American experience."
Additional information
| | |
| --- | --- |
| Weight | 11 oz |
| Dimensions | 1 × 5 × 8 cm |