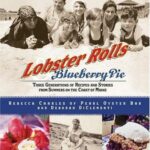 Lobster Rolls and Blueberry Pie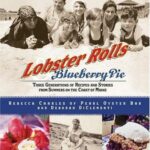 Lobster Rolls and Blueberry Pie
$21.99
$21.99
Title

Range

Discount

Trade Discount
5 +

25%

$

16.49
Description
Additional information
Description
Escape to the Maine seashore, an exquisite summer sanctuary where vacations stretch out forever during long, golden days and food is the stuff from which memories are made.
The summers that acclaimed chef Rebecca Charles and her family spent swimming in the Atlantic, scouring the beach for shells, and eating shore dinners inspired her to open the famed Greenwich Village restaurant Pearl Oyster Bar. In this heartwarming memoir, Rebecca combines more than seventy of her favorite recipes with captivating family stories.
Rebecca's adventurous granduncle Sam Goldsmith first took the family from the sweltering summer streets of Brooklyn to the exclusive seaside resort of Kennebunkport. But it was his sister–in–law Pearle Goldsmith, Pearl Oyster Bar's namesake and an opera singer with the Metropolitan and New York City operas, who fell in love with the rugged coast of Maine. Pearle passed this love on to her daughter, Eleanor, and her granddaughter, Rebecca.
Rebecca recounts her family's three–generation love affair with the small Yankee fishing village and shares the recipes that have New Yorkers waiting in line for hours to taste what food writer Ed Levine described as "the best lobster roll I have ever eaten."
Rebecca breathes new life into classic beach food. Whether re–creating an old–time clambake or grilling a whole pompano, she imparts the expertise that has made her one of the foremost seafood chefs in the country.
"Deliciously entertaining. A novel with recipes." "Will remind you of the best summers you ever had." "I remember Rebecca's grandmother Pearle…made the best shortbread cookies, and Rebecca's book is just as delicious as those cookies!" "A charming memoir of summers spent on the coast of Maine." "Personal and evocative." "A satisfying mix of memoir and cookbook." "A charming, well written account of three generations of women and their summer adventures in Kennebunkport." "A book bound to leave readers feeling that summer just can't come soon enough." "A homespun travelogue that's breezy, practical and likely to charm even armchair gourmands not partial to the beach." "A pleasure to read. . . . You'll have this book plastered open on your kitchen counter all summer." "An interesting, mouth-watering read."
Additional information
| | |
| --- | --- |
| Weight | 17 oz |
| Dimensions | 1 × 7 × 9 cm |