Breaking the Rules of Revenge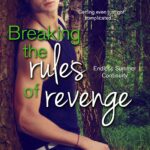 Breaking the Rules of Revenge
$2.99
$2.99
Title

Range

Discount

Trade Discount
5 +

25%

$

2.24
Description
Mallory Jones is tired of being the girl who stays home and practices French horn while her identical twin, Blake, is crowned homecoming queen. So when she has the opportunity to pretend to be Blake, she takes it. At Camp Pine Ridge, she will spread her wings and emerge a butterfly. Or at least someone who finally gets kissed by a cute guy. That is, until bad boy Ben Iron Cloud shows up, ready to get revenge on Blake—aka Mallory.
If it weren't for that infuriating girl, Ben wouldn't even be at camp. Luckily, he now has six weeks to soak up some rays and get even with his nemesis. But the more time he spends with Blake, the more he realizes she's nothing like the girl he thought she was—she's kind and innocent and suddenly way too tempting. And soon enough, revenge is the last thing on his mind. Unfortunately, the girl he's falling for is keeping a major secret…
Disclaimer: This book contains a super-hot bad boy out for revenge, all sorts of camp hijinks, and a girl who realized she's been a butterfly all along.