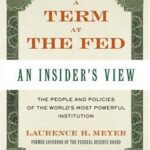 A Term at the Fed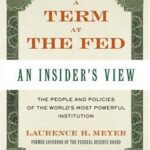 $16.99
Title

Range

Discount

Trade Discount
5 +

25%

$

12.74
Description
Additional information
Description
As a governor of the Federal Reserve Board from 1996 to 2002, Laurence H. Meyer helped make the economic policies that steered the United States through some of the wildest and most tumultuous times in its recent history. Now, in A Term at the Fed, Governor Meyer provides an insider's view of the Fed, the decisions that affected both the U.S. and world economies, and the challenges inherent in using monetary policy to guide the economy.
When Governor Meyer was appointed by President Clinton to serve on the Federal Reserve Board of Governors in 1996, the United States was entering one of the most prosperous periods in its history. It was the time of "irrational exuberance" and the fabled New Economy. Soon, however, the economy was tested by the Asian financial crisis, the Russian default and devaluation, the collapse of Long-Term Capital Management, the bursting of America's stock bubble, and the terrorist attacks of 9/11.
In what amounts to a definitive playbook of monetary policy, Meyer now relives the Fed's closed-door debates — debates that questioned how monetary policy should adapt to the possibility of a New Economy, how the Fed should respond to soaring equity prices, and whether the Fed should broker the controversial private sector bailout of LTCM, among other issues. Meyer deftly weaves these issues with firsthand stories about the personalities involved, from Fed Chairman Alan Greenspan to the various staffers, governors, politicians, and reporters that populate the world of the Fed.
Since the end of his term, Meyer has continued to watch the Fed and the world economy. He believes that we are witnessing a repetition of some of the events of the remarkable 1990s — including a further acceleration in productivity and perhaps another bull market. History does not repeat itself, yet Meyer shows us how the lessons learned yesterday may help the Fed shape policy today.
"[A Term at the Fed] offers fascinating insights." "peppered with insights…. [A Term at the Fed] is a welcome addition to the history of the past decade" "Meyer sheds light on the Fed's private rituals, customs and practices" "an instructive look at irrational exuberance and the New Economy, as well as the global impact of US monetary policy" "[Meyer's] breezy style helps unlock the mystery of national monetary policy and global finance" "Meyer writes about complex economic issues in a clear style" "It is where [Meyer] gives glimpses of the maestro's methods that the book is the most compelling" "A Term at the Fed is an interesting, accessible account of policymaking"
Additional information
| | |
| --- | --- |
| Weight | 9 oz |
| Dimensions | 1 × 5 × 8 cm |